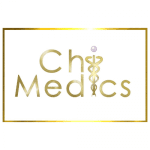 Short Business Description
Specialised Continuing Professional Development, CPD Training in Chi Medics, Clinical Reflexology and Chi-Reflexology.

Established in 1995, it is the only training facility in the world to offer this unique training, expanding the boundaries of therapies, knowledge and education.

Quarterly newsletters, charts, books, and DVDs are available.
Short Business Description
Creator of the No-Mind Approach to Reflexology, Chantel C. Lucier offers advanced level training programs and courses in reflexology, intuitive reiki, and a variety of holistic practices to educate and empower the reflexologist to establish greater specificity in sessions and a more integrated (and realistic!) self-care practice.

Some of her most popular courses include: A No-Mind Approach to Reflexology, Emotional Patterning and Dis-Ease, The Brain and Pain, Reflexology for Trauma, Addiction, & Recovery, and Self-Care for the Reflexologist.

She is an approved continuing education provider with ARCB and NCBTMB.

For more details about the training opportunities available, please visit the website link below.