Short Business Description
Creator of the No-Mind Approach to Reflexology, Chantel C. Lucier offers advanced level training programs and courses in reflexology, intuitive reiki, and a variety of holistic practices to educate and empower the reflexologist to establish greater specificity in sessions and a more integrated (and realistic!) self-care practice.

Some of her most popular courses include: A No-Mind Approach to Reflexology, Emotional Patterning and Dis-Ease, The Brain and Pain, Reflexology for Trauma, Addiction, & Recovery, and Self-Care for the Reflexologist.

She is an approved continuing education provider with ARCB and NCBTMB.

For more details about the training opportunities available, please visit the website link below.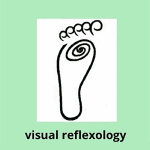 Short Business Description

Visual Reflexology offers AoR and NRRI approved training workshops, and an interactive ebook on Visual Reflexology & Foot Reading.

Visual Reflexology covers foot reading from the perspective of Ingham method reflexology and Western A&P. It looks at how to use foot reading during a treatment and within the wider context of the practice of reflexology as a holistic but fundamentally bodywork-based therapy.

Suitable for newcomers as well as those more experienced in foot reading.