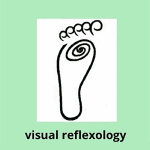 Short Business Description

Visual Reflexology offers AoR and NRRI approved training workshops, and an interactive ebook on Visual Reflexology & Foot Reading.

Visual Reflexology covers foot reading from the perspective of Ingham method reflexology and Western A&P. It looks at how to use foot reading during a treatment and within the wider context of the practice of reflexology as a holistic but fundamentally bodywork-based therapy.

Suitable for newcomers as well as those more experienced in foot reading.