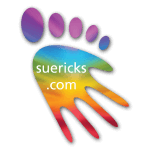 Short Business Description
"Kindness, patience, knowledge and experience."

Online training and courses, one-to-one bespoke consultations, acclaimed academy with huge range of valuable beginner and advanced training, videos, books, charts and live Zoom sessions for Q&A.

CPD provider. Reflexology and Energy Expert.

Sue Ricks Academy – highly rated – wide range of training and advice – membership site.

Sue's training has been described as "so knowledgeable," "gifted and inspiring," "passionate and insightful," and "love on legs!"