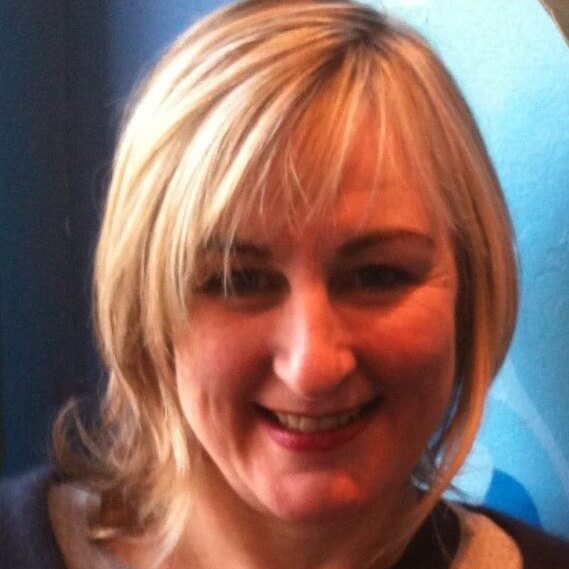 Angela Telford has been a therapist for 35 years and a reflexologist for 30.
She has been running workshops in Visual Reflexology for the last 6 years, runs the Visual Reflexology Facebook group, and has written an interactive eBook on Visual Reflexology & Foot Reading.
---
Article words by Kelly Hainsworth and Angela Telford.
---
I spoke with Angela to learn more about her work and running Visual Reflexology.
Hello Angela
1. Could we start by you sharing a little bit about yourself?
I grew up in Newcastle was educated by nuns and I am the 3rd child in a massive Catholic family. I spent two years at art college In Liverpool then moved to London where I lost me Geordie accent as nobody could understand a word I said. I worked in Public Relations at the Museum of London and had many other weird and not so wonderful jobs and travelled the world. I gave up running a drag night club with a gay friend to become a holistic therapist.
I've been a therapist for 35 years now and a reflexologist for 30 (the big anniversary is this month!).
I've spent a lot of time in South America, especially Cuba as I was married to a Cuban for a long time. I live with my son who is 24 and runs social media for a street fashion company. He's half Cuban half Geordie. A Good mix.
I have a partner Ron who imports antiques, mostly Old Masters and musical instruments. Those two are the foot models in my eBook. Ron is lovely, but we live separately which is probably why we're still together…we do share a holiday home in the mountains in the South of France though and I spend a lot of time there with him and I also spend a lot of time up North with my extended family.
2. What was your first experience of reflexology and what led to the decision to train and create your own business?
I spent a year travelling in China and Tibet in my mid-twenties and became very interested in the Eastern holistic approach to well-being. When I returned to the UK I started practicing as a massage therapist then progressed to reflexology as clients often responded better to having their feet worked on, than the part of the body where there was a problem.
The Visual Reflexology training I never imagined for a minute would become part of my business. But I was fascinated by it and loved it and went on about it quite a lot! So, I started the Visual Reflexology Facebook group just for fun. Then other reflexologists asked me to run workshops about it, then asked me to write a book about it, then to do online teaching, and here I am. I never planned any of it.
3. At what point in your business did you start to become interested in foot reading?
It's crazy to think about it now but I'd been practicing for 23 years and had had hundreds of feet in front of me for hours on end without ever properly looking at them, let alone studying them! But one day my son got a load of verrucas, and I had my 'Duh' moment.
Why they were on the reflexes they were on was probably the feet telling me something really important, and I should start to think about what that was.
My study of what I call Visual Reflexology expanded from there as I realised that everything I saw on the feet was giving me a message about the client's health. And that the existing foot readers I knew of, fantastic though their approach was, didn't really see the feet in the same way as I saw them.
4. For therapists reading this interview who have not heard about foot reading, please can you share more about what it is.
Every single thing we see on the feet is telling us something about the health of the reflexes on which we see them. Colours, lines, skin textures, swollen and sunken tissues, nail conditions, freckles & marks, as well as tightness in the joints and tension in the muscles, all give us valuable information about the physical health and emotional well-being of our clients.
We can also read the health of each physiological system in areas of the foot rather than simply considering individual reflexes in isolation, and it helps us understand that the feet represent a 3-dimensional microcosm of the client and not just a set of 2-dimensional charts.
5. Do you incorporate foot reading into a reflexology treatment, or would you provide it as a separate treatment?
I don't teach separate foot reading. Visual reflexology is only for reflexologists to use during a treatment and teaches a different approach to a stand-alone foot reading treatment. It's less about analysing the client's personality, more about reading their feet in order to support their health holistically and to be the best reflexologist you can possibly be.
6. You are the author of the eBook 'Visual Reflexology and Foot Reading', what can a reader expect from the book to support their business?
Learning to foot read is a vital addition to your skill set and is very easily learned and incorporated into your practice whatever way you work.
It guides you in the questions you should ask of clients, helping you to make a deeper connection with them. It gives you a greater understanding of what you are feeling in the feet and helps in choosing which techniques to use.
It also helps you see how effective your work is being during a treatment and provides an extra dimension to your client notes and record keeping.
7. If there was one thing that you wish you would have known when becoming self-employed what would it be?
That my personal energy would always get the clients that were right for me, as well as the right amount of bookings.
I used to think I was rubbish if clients didn't rebook or if I wasn't booked up well in advance. But then I eventually realised that although it might sound odd, I actually hate being booked up weeks in advance, it feels really pressurised to me. So, I always have plenty of bookings and lots of regular clients, but they are almost all really busy Londoners with hectic diaries who frequently don't book until the last minute, and that's just fine.
8. Having created a successful business, what advice would you share with a reflexologist who is feeling stuck within their business?
Find an aspect you really enjoy, working with children, the elderly, mental health, rehabilitation after operations etc. And really focus on developing & promoting that side of your clientele and business.
If you're still stuck, try some life coaching to help you on your way. And even better, see if you can find a coach who will do swaps with you for reflexology treatments! I did that twice in my early career and it really helped.
9. What exciting plans do you have for 2022?
Loads, I'm planning a series of free online Zoom talks covering all aspects of Visual Reflexology via my Facebook group (see below). And now my eBook is nearly finished, I'll be carrying on with writing a free to access blog on foot reading about all the latest developments on the subject (e.g., reading post Covid feet) and inviting other feet readers, and reflexologists with an interesting take on it, such as reading the feet during pregnancy, to contribute.
10. What is your hope for the reflexology profession for the future?
Visual Reflexology to be included as a part of the basic curriculum for all students. Less reliance on using charts, more on seeing the feet as a 3D microcosm of the body. From a broader perspective, more integration with the orthodox medical profession so we can teach them a few things!
---
Quick Fire Questions – Get to Know Angela More.
(1) What is your favourite place to go on holiday?
I have a holiday home in the mountains in the south of France with a river in the garden. It's so beautiful there it makes me cry.
(2) Coffee or tea?
Coffee is the only reason I get up in the morning (I'm completely a night person). But a nice cup of tea is much more comforting on a rainy afternoon.
(3) How would you spend your ideal day away from work?
In summer – swimming in the river in the mountains in France with a picnic & a glass of rose, or winter – in a country pub with good food and a decent pint.
(4) Instagram or Facebook?
Facebook is a great tool for Visual Reflexology, and I've run a Facebook group for a few years now where members study photos of feet, with nearly 5,000 reflexologists. Join us if you're not already a member.
(5) What is your favourite well-being book or podcast of all time?
'Modern Man in Search of a Soul' A Book by C.G. Jung. He's better known as a psychoanalyst, but this is Spiritual guidance in a truly a wonderful book by an amazing man.
---
Angela's Business Tips
Network, Network, Network. We are in what can be a very lonely and isolated profession. Online forums and groups etc. have helped, but there's nothing like meeting up with fellow reflexologists in-person to encourage, support, mentor, and inspire each other. Join your local meet up group if you can.
Don't get bogged down worrying about the myriad options of choices for cpd courses. No one can do them all and it's not necessary to. To find your business niche, go with what interests you or you enjoy the most and don't worry about the rest.
Have reflexology yourself from different reflexologists. It's amazing how many reflexologists don't. Having a treatment is not just about looking after ourselves, we can learn a lot from it about what works being on the receiving end as a client ourselves.