Love Reflexology asked Jane Sheehan, UK's leading foot reader, reflexologist and Amazon bestselling author what are her top five business tips for therapists.
When you first start your business, you suddenly discover that everyone wants to give you ideas about what you should do. Fabulous! But at this stage you are already feeling overwhelmed with all the things you know you have to do to set up your business – accounts, marketing, finding a venue, sorting out your business cards and leaflets, dealing with clients. One more brilliant idea from a well-meaning person can leave you even more stressed. So, tip number 1:
Tip 1 – Keep a notebook on you
If you have a notebook on you, you can park these brilliant ideas so that you don't lose them, but allow yourself to stay focused on what you have already decided to do. Revisit your notebook when things quiet down for you. This will help keep your stress levels lower and can be a source of inspiration at a later date when you have more headspace.
Tip 2 – Read the signs
Get yourself a sign outside your workplace. How can people buy from you if they don't know you are there? It is true that for some signs you need planning permission, but most planning offices are helpful with advice if you approach them before you do it. In my area you are allowed an a-frame sign on private land and an A4 plaque on your wall and an A4 sign in your window without planning permission. I took it one step further and had vinyl lettering put on my car to advertise my business because I travel far and wide.
Tip 3 – Clients
This may seem obvious, but without clients, you don't have a business. No matter how long you have been in business, you need to keep the client at the forefront of your thinking. That doesn't mean you should let your clients dictate how you run your business. But it means you should make sure they always get a valuable-to-them experience. You need to be a chameleon so that your client gets the right sort of treatment for them, rather than the same treatment for everyone. Some clients want a silent treatment, some want to talk. One size does not fit all.
What I mean by you shouldn't let your clients dictate how you run your business is this. Your business hours should suit your lifestyle. One of my friends set up her business letting her clients decide how early and how late they would book appointments. Nett result is that she ended starting work very early and finishing work very late. It meant she had no social life and no time off. She quickly became exhausted.
Are your assumptions getting in the way of what you want to do? When I moved to the North West of England, I decided that I needed to work office hours rather than out of hours so that I would be free in the evenings to socialise and make new friends so I could put down roots. I had always assumed you couldn't run a therapy business if you didn't work out of hours. It turns out I was very wrong. I have attracted in a different sort of client base and on a time-frame that suits me.
Tip 4 – Be Persistent
I have been asked "There have been other foot readers overtime who come and go, but how come you are the successful one?" The answer, I think, is persistence. But it is also to know when to stop. The flip-side of passion is tiredness. There are days when I am on a high with all the excitement of what is happening in my business. But I know that this means I will need to schedule some quite time to regroup. That doesn't mean giving up. It means looking after myself so that I can keep going. Resilience and persistence are the two top qualities you need. If you find your "get up and go" has "got up and went" then you know it is time to have a break, so that you can come back stronger, fitter, and ready to carry on.
Tip 5 – Share your passion
Whenever my pal Sylvia and I go out for the day, we usually meet someone who has a bad back, or a sore knee or some such ailment and we always end up talking reflexology with them and giving them a mini treatment. Most business books will tell you that if you give a free sample, you can gain more business. We don't give these free treatments with a view to gaining new business, but with the intent of being in service and helping someone who is in need. We are so passionate about what we do that we just can't help ourselves. We help because we want to help. But it has the same result. We often gain new business as a result of helping someone.
Learn more:
If you'd like to know more about how to start and run a holistic therapy business, why not read "Sole Trader: The Holistic Therapy Business Handbook" by Amazon bestselling author Jane Sheehan.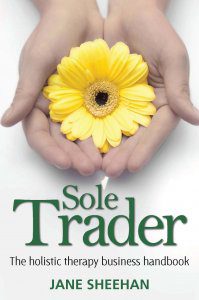 "My students were asking me whether they should advertise in Yellow Pages and I thought, you're asking the wrong question. This book was written for those students to share all the things I know now that I wish I knew then".
If you wondered how to write a business plan when you don't know how many clients you will get, or what to take to your first pamper evening, or how to write a press release, then this book is for you.
This and Jane's other books are available from her website.
All articles are produced for information purposes only. Please read the full terms and conditions of lovereflexology.net when using this site.

Jane Sheehan is the UK's leading foot reader and Amazon best-selling author of "Let's Read Our Feet!" "The Foot Reading Coach", "Sole Trader: The Holistic Therapy Business Handbook" and "The Gurus' Guide to Reflexology".  To find out about her clinic, books and cards, or foot reading workshops see https://www.footreading.com or https://www.lecturedespieds.fr