workshops
Short Business Description:
And Breathe is a dynamic new wellness & training centre based in Magherafelt in Northern Ireland. It provides the highest quality education & training from world-renowned specialists and also offers holistic & specialised therapies, yoga classes & workshops.
Short Business Description:
Jane Sheehan is the UK's leading foot reader, amazon best-selling author, and therapist. Find her products and workshops on Jane's website.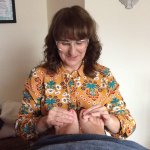 Short Business Description:
Mobile Gentle Touch Reflexologist and Workshop Facilitator.

Kelly Hainsworth is the founder of Love Reflexology – and a successful reflexologist – with a passion not only to support her clients, but all reflexologists within their businesses. She provides business tips, motivation and support to the industry. To work with Kelly head to her website.