After the initial shock subsided, the slow-paced days of lockdown created the perfect opportunity to step back from our businesses and reflect.
You might have realised how much your business had been running away with you, realised how tired you really were, or admitted to yourself that for whatever reason you just weren't feeling as happy as you could be. So, you made the decision that when the time came, you wouldn't be returning to work as you had before.
Now, as the world takes tentative steps towards reopening, and we learn to adjust to the so called 'new normal', it feels more important than ever to take care of ourselves as therapists and business owners.
Often when we think of self-care, we think of things we can add to our routines, but I believe an incredibly powerful act of self-care is learning when to say no and when to let go of things that are no longer serving us.
So, as you plan or settle into your new way of working here are some things you can say no to in your business.
No to rushing back to 'normal'
Now that the government has given the go-ahead, you might be feeling under pressure to get your business up and running as quickly as possible. Here's your permission slip if you need it.
It's not a race to start working again and if you're not ready yet (I'm not) that's completely OK. When you do start seeing clients again, it's OK to take it slowly, perhaps working fewer days than you were before or seeing fewer clients in a day.
No to too much time online
There's no doubt connecting with loved ones online was vital during lockdown. But when it comes to your business it's worth being mindful about how much time you spend online and how it makes you feel.
It's all too easy to fall into the trap of mindless scrolling, or worse – comparing yourself to others which can lead to comparison, and inevitably feeling insecure.
Scheduling time to be offline can be a good way to create some boundaries. Sometimes a walk in nature without your phone or a digital-free day (half day, or even hour) can be a wonderful way to take a breather and reset.
No to business strategies that don't feel good
Every expert online has a strategy, plan or blueprint guaranteed to make you a huge success; whilst online coaches might know their stuff, they aren't experts in your health and well-being.
If you're looking to implement new strategies in your business, whether you want to up your social media game. or want to create an online course to supplement your income, it's important to find ways of working that feel good and will be sustainable long term.
Remember, everyone's definition of success is different too, so getting clear on how you want to feel in your business can help you know if a strategy will work for you.
No to ignoring messages from your body
You probably talk to your clients all the time about self-care, and the importance of rest and checking in with themselves. But if you're really honest with yourself, do you practice what you preach?
How often have you worked later than you planned because a client was in need of your support, or you've found yourself rubbing aching shoulders at the end of the day because your positioning wasn't great, or you squeezed in an extra treatment?
Take time each day to check in with your body, slow your breathing and allow yourself to notice areas of tension or discomfort.
Are tight shoulders a sign that you're carrying the weight of the world around with you?
Is that headache due to tension or dehydration?
Can you use some self-reflexology techniques, take some time to rest or make some changes to the way you work?
If you ignore your body when it whispers, it will only find ways to shout louder until you listen.
No to pushing out of your comfort zone
This is a controversial one I know! We hear all the time that the magic only happens when we push ourselves out of our comfort zones, but I'm a big believer that we do our best work when we feel at our best.
So, a gentle nudge when you're feeling a little hesitant might be a good thing, but if pushing yourself leaves you feeling very stressed or anxious, your body could start to respond as though you were under threat, and activate the fight or flight response.
If this is only an occasional thing it's probably OK, but regularly pushing yourself beyond your comfort levels isn't good for you, and could lead to health issues which isn't good for you or your business.
No to anything other than loving yourself for who you are
Whatever your business looks like when you return, remember you don't need to be perfect. You're already good enough as you are.
Don't be hard on yourself, don't listen to negative self-talk and if you have a tough day, don't be afraid to reach out and ask for support if you need it.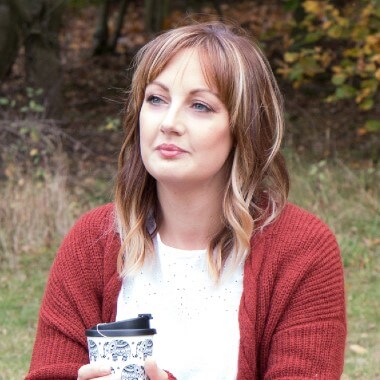 Claire Gardner is a reflexologist and well-being mentor based in the North East of England. After struggling with her own health and well-being during her business journey, she decided to use her skills as a therapist, as well as her own experiences to support other business owners to put their well-being at the heart of their businesses.
To learn more about Claire's work please visit: www.clairegardner.co.uk