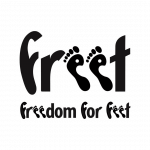 Short Business Description
Freet is a small business in North Yorkshire dedicated to designing and making barefoot style shoes which allow your feet to move freely, as nature intended.

Reflexologists can benefit from feeling grounded and what better way to do this than wear barefoot shoes. Barefoot shoes allow you to feel your feet and therefore a greater ground connectivity while you provide reflexology or other holistic treatments to your clients.

All the shoes are completely flexible and can be rolled into a ball allowing full foot function. The wide toe box and zero drop mean that feet and toes can spread and move naturally.

In addition to this Freet are committed to developing an environmentally kind business and have shoes made out of recycled plastic bottles and recycled coffee grounds.

For more information please contact Stella at freet@freetfootwear.com Stella is also a trained and practising reflexologist and a member of the Association of Reflexologists.

Visit the Freet website at the link below and use the code Lovefeet10 to receive a 10% reflexologists discount off any pair of Freet shoes (not available on sale items).