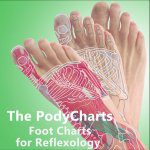 Short Business Description
The PodyCharts is a book containing a fascinating series of foot maps for use by the reflexology practitioner and all those interested in body work, healthcare and anatomy.

There are 92 A4 pages of detailed, anatomical reflexology charts in the book.

The PodyCharts are available at the link below, which also sells equipment and resources to enhance the reflexology practitioner's professional approach to client treatments, comfort and safety.

The PodyCharts authors, Annie and Sue, have also developed an innovative Reflexology CPD course called OrthoPody Training. The course details placement and treatment of Muscles, Fascia and Myofascial Chains. Details can be found on the link below.